CULTURE
Fifty-Two Great Movies For Catholic Family Viewing
(April 1, 2016)
I. Any Time of The Year
ADVENTURE/WAR (5)
Battle of The Bulge (1965)
Cast: Henry Fonda, Charles Bronson, Telly Savalas
World War II cinema novel that tells the stories of several characters who come together at the climax. As Christmas 1944 approaches, the U.S. Army thinks it has the Germans beaten, however the latter launch a massive surprise attack.
Bridge On The River Kwai (1957)
Cast: William Holden, Alec Guinness, Sessue Hayakawa, Director: David Lean
World War II story in which British and American prisoners of war are forced by the Japanese to build a railroad bridge in the jungle. The well-meaning senior British officer in command loses perspective.
The Buccaneer (1958)
Cast: Charlton Heston, Yul Brynner, Claire Bloom, Charles Boyer, Lorne Green
With the British coming to attack New Orleans in the War of 1812, pirate Jean Lafitte (Brynner) must decide if he will help General Andrew Jackson (Heston) defend the city.
The Spirit of St. Louis (1957)
Cast: James Stewart, Patricia Smith, Director: Billy Wilder Music: Franz Waxman
As he makes the first solo flight across the Atlantic, Charles A. Lindbergh reminisces about his career as aviator.
Two Years Before The Mast (1946)
Cast: Alan Ladd, Brian Donlevy, William Bendix, Barry Fitzgerald
Based on a so-called "classic," Richard Henry Dana, Jr.'s insipid account of a rich Harvard boy at sea, this is one movie that is way better than the book. On screen Dana (Donlevy) and his shipmates suffer under a tyrannical captain (Da Silva).
CATHOLIC FAITH (7)
The Agony And The Ecstasy (1965)
Cast: Charlton Heston, Rex Harrison; Music: Alex North
Sculptor Michaelangelo (Heston) reluctantly accepts a commission from battling Pope Julius II (Harrison). It's to paint the customary twelve apostles on the Sistine Chapel ceiling. Frustrated by the project's lack of originality -- and by the lack of compensation -- Michaelangelo quits. While on the run from his pontiff, he comes up with a better idea for the ceiling.
Beckett (1964)
Cast: Richard Burton, Peter O'Toole, John Gielgud, Siân Phillips
The first of two mid-60s conscience/martyrdom, Thomas/Henry, church/state-conflict movies on this list, Beckett is about a 12th-Century Archbishop of Canterbury who opposes King Henry II's expansion of state power at the expense of the church.
St. John Bosco: Mission to Love (2004)
Cast: Flavio Insinni; Director: Lodovico Gasparini,
In an age of deep-dish Catholic media, there is nothing cheesy or low-budget about this movie. The director understood the motion in "motion picture." Don Bosco is also not "too European." The DVD has dialog in English. In an Italian kingdom wary of revolution, athletic Fr. Giovanni Bosco (Insinni) ministers to poor young men while trying to convince distrustful authorities of the harmlessness of his mission.
The Keys of The Kingdom (1944)
Cast: Gregory Peck, Thomas Mitchell, Vincent Price, Edmund Gwenn
Based on a novel by Scottish Catholic A. J. (Archibald Joseph) Cronin, the life story and struggles of a Scottish priest who is sent as a missionary to China.
Lilies of The Field (1963)
Cast: Sidney Poitier, Lila Skala
In this low-budget but beautifully produced late black and white, an African American Baptist itinerant construction worker (Poitier) is drawn into helping German-speaking nuns build a chapel in the Arizona desert. Based on a novel by Catholic writer, William E. Barrett.
A Man For All Seasons (1966)
Cast: Paul Scofield, Leo McKern, Orson Welles, Vanessa Redgrave; Screenplay: Robert Bolt
Henry VIII's chief law enforcement officer, St. Thomas More (Scofield), is beheaded (not shown) after he refuses to support Henry's ditching of Catherine of Aragon for Anne Boleyn and Henry's declaration of himself as head of the Church of England. What's the big deal? Just sign.
Quo Vadis (1951)
Cast: Robert Taylor, Deborah Kerr, Peter Ustinov
A 3-hour movie that literally has a cast of thousands, among them, an uncredited Elizabeth Taylor. Based on Polish author Henryk Sienkiewicz' novel, it's about a handsome Roman officer (Robert Taylor) trying to save his beloved (Kerr) from Nero's (Ustinov) slaughter of the Christians in the arena. As in the novel, the scenes of people being burned alive and eaten by lions are graphic. Snowy-bearded Finlay Currie plays the perfect St. Peter who, fleeing from Rome, encounters Jesus in a vision and asks "Where are you going [Quo Vadis]?"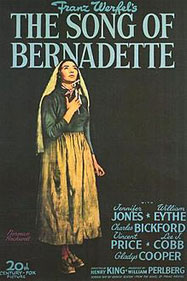 The Song of Bernadette (1943)
Cast: Jennifer Jones, Vincent Price, Lee J. Cobb
In the progressive, secularist France of 1858, Bernadette Soubirous (Jones), a teenager of a humble, struggling family sees a vision of a beautiful lady who calls herself "The Immaculate Conception." Bernadette insists that her visions are real despite skepticism and hostility, particularly that of atheist prosecutor, Vital Dutour (Price). "For those who believe, no explanation is necessary. For those who do not believe, no explanation is possible."
CHARACTER AND COURAGE (3)
The FBI Story (1959)
Cast: James Stewart, Vera Miles, J. Edgar Hoover
The history of the Federal Bureau of Investigation mingled with the life and experiences of a paradigmatic agent (Stewart) and his family. Keep a box of tissue handy.
Green Dolphin Street (1947)
Cast: Lana Turner, Van Heflin, Donna Reed, Edmund Gwenn
Members of a French family from an English Channel island mature and learn to accept what life has dealt them after a terrible mistake is made; a good Christian lesson. The special effects of an earthquake in New Zealand are still considered to be spectacular. Also the native war chant may be pretty scary for children.
The Hasty Heart (1949)
Cast: Ronald Reagan, Patricia Neal, Richard Todd
The Christian theme in this one is patience and persistence. Set in a Burma M*A*S*H unit at the close of World War II, the story of recovering soldiers and their nurse (Neal) who try and try again to befriend a surly loner Scotsman.
COMEDY (4)
The General (1926)
Cast: Buster Keaton, Marion Mack
Silent comedy based on a true incident that happened in Georgia/Tennessee during the Civil War. Keaton plays the engineer of a Confederate train that is stolen by Union infiltrators. Most of the movie is a chase scene. Meticulous Keaton spent a fortune on making the trains and Civil War stuff look authentic.
The Great Race (1965)
Cast:Tony Curtis, Jack Lemmon, Natalie Wood, Peter Falk; Director: Blake Edwards
Many 1950s/60s TV stars appear in this comedy about an around-the-world auto race ca. 1910. However Jack Lemmon as the hapless villain, Professor Fate, steals the show.
Harvey (1950)
Cast: James Stewart, Josephine Hull, Jesse White
Based on a play by Denver journalist Mary Chase whose other work was The Wicked, Wicked Ladies In The Haunted House. Does Elwood P. Dowd (Stewart) really have a 6-foot rabbit for a pal?
The Road to Morocco (1942) / The Road to Utopia (1946)
Cast: Bob Hope, Bing Crosby, Dorothy Lamour
The two best of several "Road" pictures that Hope, Crosby and Lamour made over 20 years. An archetype for many cartoon and movie plotlines: two down-and-out guys pursue Dorothy Lamour while they outwit people who are trying to kill them.
GOOD VS. EVIL (7)
Key Largo (1948)
Cast: Humphrey Bogart, Edward G. Robinson, Lauren Bacall, Lionel Barrymore; Director: John Huston
A soldier just back from World War II (Bogart) comes to the aid of a wheelchair-bound hotelkeeper (Barrymore) and his widowed daughter-in-law (Bacall) when gangsters led by Johnny Rocco (Robinson) take over the hotel as a hurricane approaches.
King's Row (1942)
Cast: Ronald Reagan, Ann Sheridan, Robert Cummings, Claude Rains; Music: Eric W. Korngold,
Based on a great but forgotten novel by Henry Bellamann, this is the story of three young friends from both sides of the tracks in a small town and how they are battered by the snobbery of respectable citizens, one of whom is an evil God-player.
Les Miserables (1935)
Cast: Fredric March, Charles Laughton, Cedric Hardwicke
The story that is now well known, but with a great emphasis on the charity of the Catholic bishop (Hardwicke).
Lifeboat (1944)
Cast: Tallulah Bankhead, William Bendix, Hume Cronin; Director: Alfred Hitchcock Screenplay: John Steinbeck, Harry Sylvester et al.
Tense drama of interaction between various survivors of a ship / German submarine mutual destruction. Can they trust the enemy officer who is navigating? Catholic writer Harry Sylvester contributed to screenplay.
Sherlock Holmes Series (Universal Pictures, 1942-1946)
Cast: Basil Rathbone, Nigel Bruce
For this series' fans, Rathbone's and Bruce's characters can never be displaced by more authentic Holmeses and Watsons. The stories are set, not in Victorian times, but in the 1940s wherein the deductive detective and his sidekick battle spies and other comic-booky villains. My favorites are Sherlock Holmes in Washington (1943), Sherlock Holmes Faces Death (1944), The House of Fear (1945), Terror By Night (1946).
Stalag 17 (1953)
Cast: William Holden. Peter Graves, Otto Preminger; Direction and Screenplay: Billy Wilder
Inspiration for the 1960s series Hogan's Heroes, this movie even has a Sergeant Schultz. However comedy is only incidental relief in this tense drama about American World War II prisoners of war. William Holden is hated by his fellow prisoners, but he is the only one who knows the identity of a spy who is passing escape plans to the camp kommandantur. The latter is no Col. Klink.
Strangers On A Train (1951)
Cast: Farley Granger, Ruth Roman, Robert Walker, Patricia Hitchcock; Director: Alfred Hitchcock
Traveling from Washington, D.C. to New York, tennis player, Guy Haines (Granger) has a conversation with Bruno Antony (Walker). Haines dismisses Antony as an amusing, one-time encounter, but soon finds himself caught up in queer Antony's evil designs.
HEARTWARMING / TEARJERKING (3)
7 Faces of Dr. Lao (1964)
Cast: Tony Randall, Barbara Eden; Director: George Pal
Possibly the funniest actor ever, Tony Randall, later of The Odd Couple, plays several semi-puppetoon characters in this tale. A Chinaman brings an entire circus on a donkey to an Arizona village where he rights some of its wrongs. Dr. Lao's departure at the end reminds one of The Ascension.
Friendly Persuasion (1956)
Cast: Gary Cooper, Dorothy McGuire, Anthony Perkins; Music: Dimitri Tiomkin
Charming story of the Birdwell Family, pacifist Quakers in Indiana who get caught up in the Civil War when Confederates invade their state. Anthony Perkins of Psycho fame plays the oldest son.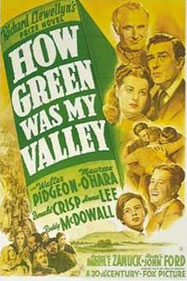 How Green was My Valley (1941)
Cast: Roddy McDowell, Maureen O'Hara, Walter Pidgeon; Director: John Ford
The trials of a family in a Welsh mining town as recalled by their son Huw (McDowell). "Men like my father cannot die. They are with me still, real in memory as they were in flesh, loving and beloved forever. How green was my valley then."
HORROR/SCI-FI (6)
The Bad Seed (1956)
Cast: Nancy Kelly, Patty McCormack, Henry Jones
Based on a play by Maxwell Anderson, this drama maintains a stage-like atmosphere. A mother slowly comes to grips with the truth that her 8-year-old daughter is a homicidal sociopath. Henry Jones' portrayal of Leroy the janitor, the second creepiest character in the cast, is marvelous.
The Bride of Frankenstein (1935)
Cast: Boris Karloff, Colin Clive, Elsa Lanchester; Music: Franz Waxman
Much better and deeper, with relevance to current moral issues, than the original Frankenstein movie that it sequels. Dr. Frankenstein (Clive) is forced by queer, God-playing Dr. Pretorius to build a mate (Lanchester) for his monster (Karloff).
The Day The Earth Stood Still (1951)
Cast: Michael Rennie, Patricia Neal, Hugh Marlowe, Sam Jaffe
Klatu (Rennie), a benevolent alien, lands his flying saucer on the National Mall in Washington, DC accompanied by his robot Gort. Klatu comes in peace, but the earthlings react with typical hostility and self-interest. While being hunted around D.C., Klatu gives a demonstration of extra-terrestrial power at the command of "Klatu barada nicto."
Journey to the Center of the Earth (1959)
Cast: James Mason, Pat Boone, Arlene Dahl, David Thayer
Based on a novel by Jules Verne, the adventures of a professor (Mason) who leads a party on the subterranean trail of Arne Saknussem who disappeared centuries earlier. They won't succeed if Saknussem's evil descendant (Thayer) has anything to say about it.
The Thing From Another World (1951).
Cast: Kenneth Toby. Margaret Sheridan, James Arness; Directors: Christian Nyby, Howard Hawks
A great sci-fi drama made so by a bit of humor. Scientists and military people at an arctic camp are trapped with a malicious alien being (Arness). An arrogant scientist doesn't help.
War of The Worlds (1953)
Cast: Gene Barry, Ann Robinson, Paul Frees; Narrator: Cedric Hardwicke; Producer: George Pal
Thanks to Catholic George Pal, religious faith abounds in this telling of a murderous Martian invasion. The martian machines in this scared the hell out of me when I was four years old, so beware with little kids.
LITERATURE (2)
Great Expectations (1946)
Cast: John Mills, Jean Simmons, Alec Guiness; Director: David Lean
Based on the novel by Charles Dickens. Who is the unknown benefactor who bestows wealth upon young Phillip "Pip" Pirrip?
To Kill A Mockingbird (1962)
Cast: Gregory Peck, Mary Badham, Robert Duvall
Chances are, kids will have to read Harper Lee's novel in school. Aside from the politically correct fashionability, TKAM is a great story of friendship and courage. Noire, gothic tale told through the eyes of 10-year-old Scout Finch (Badham) about her southern-lawyer father (Peck) who bucks community sentiment in defending an African American man accused of rape.
MUSICAL (1)
Showboat (1936)
Cast: Irene Dunne, Paul Robeson, Helen Morgan, Hattie McDaniel; Music: Jerome Kern, Oscar Hammerstein II
Made nine years after the smash hit on Broadway that featured Ol' Man River and Make Believe, this 1936 version has some of the great talent of the '20s and '30s. Helen Morgan and Hattie McDaniel sing Can't Help Lovin Dat Man O' Mine. Robeson the baritone sings Ol' Man River. There is racial stereotyping, but there is also a theme of racial injustice which was radical for a musical of the time.
SHAKESPEARE (1)
Henry V (1989)
Cast: Kenneth Branagh, Derek Jacobi, Emma Thompson, Judy Dench; Music: Patrick Doyle; City of Birmingham Symphony conducted by Simon Rattle
Fast-paced and action-packed with a realistic, blood-squirting 15th-century battle scene, Kenneth Branagh's acclaimed adaptation about a young king (Branagh) invading and conquering France is a good introduction to Shakespeare. As with other movies on this list, the music, particularly Non Nobis Domine, is itself as masterpiece.
TRAGEDY (1)
Moby Dick (1956)
Cast: Gregory Peck, Richard Basehart, Orson Welles; Director: John Huston; Screenplay: Ray Bradbury
Herman Melville's story of a vengeful captain leading his crew to destruction in pursuit of a great white whale.
WESTERN (1)
True Grit (1969)
Cast: John Wayne, Glen Campbell, Kim Darby
But for a bit of mild profanity, this is a great western for kids, made so by by the presence of cute Kim Darby playing a teenager from Dardanelles in Inyo County who persuades the crotchety Rooster Cogburn (Wayne) to pursue the murderer of her father.
II. Seasonal & Holidays
ST. PATRICK'S DAY (4)
The Fighting 69th (1940)
Cast: James Cagney, Pat O'Brien, Allen Hale
Word War I drama about real men and incidents in which Cagney plays a Bowery bad boy who makes trouble in the storied, mostly Irish 69th New York Infantry. O'Brien plays Regimental Chaplain, Fr. Francis P. Duffy whose statue stands in New York's Times Square.
The Fighting Prince of Donegal (1966)
Cast: Peter McEnery, Susan Hampshire, Gordon Jackson
Disney adventure about the handsome young prince who, in the 1590s, leads a rebellion of Irish clans against British occupiers. Yes, Gordon Jackson is the guy who played Mr. Hudson in Upstairs Downstairs.
The Long Gray Line (1955)
Cast: Tyrone Power, Maureen O'Hara; Director: John Ford
Based on the life of Sgt. Martin Maher, an Irish immigrant who spent 50 years at West Point training the officers of two world wars, including a cadet who became President of The United States.
The Quiet Man (1952)
Cast: John Waye, Maureen O'Hara, Barry Fitzgerald; Director: John Ford
Although "fighting" doesn't appear in the title, there is fighting in this movie. American Sean Thornton brings a secret past to his boyhood village, Innisfree. He meets and marries a beautiful redhead and then spends much of the time fighting with her and her brother. Good-natured comedy, but there is some action that would today be called spousal abuse.
JULY FOURTH (2)
1776 (1972)
Cast: William Daniels, Howard DaSilva, Blythe Danner
Great and historically accurate musical about John Adams (Daniels), Thomas Jefferson and Ben Franklin (DaSilva) managing the drafting and adoption of The Declaration of Independence in a reluctant Continental Congress.
Yankee Doodle Dandy (1942)
Cast: James Cagney, Joan Leslie
Take it from someone who doesn't like musicals, this is the best. Film-bio of American songsmith, George M. Cohan scored with a number of his best-loved toe-tapping tunes. While it is not a very accurate bio, Cagney plays Cohan to the life. George M. himself sneaked unrecognized into a Washington, DC theater to watch this a few weeks before he died.
HALLOWEEN (2)
Arsenic & Old Lace (1944)
Cast: Cary Grant, Priscilla Lane, Raymond Massey, Peter Lorre, Edward Everett Horton; Director: Frank Capra
Based on a Broadway play in which Boris Karloff starred, this Capra comedy is ahead of its time with a pro-life theme. It's Halloween in Brooklyn. A writer who doesn't believe in traditional morality discovers that his sweet old aunts are mercy-killing lonely old men.
Ghost Breakers (1940)
Cast: Bob Hope, Paulette Goddard, Anthony Quinn, Willie Best
A crime-gossip reporter (Hope) and his valet (Best), who is the butt of a little racial humor, help an heiress (Goddard) discover the mystery of her creepy Cuban castle. A castle in Cuba? Spooky special effects might scare younger children.
THANKSGIVING / CHRISTMAS (4)
A Christmas Carol [Scrooge] (1951)
Cast: Alastair Sim, Michael Hordern, Patrick McNee; Music: Richard Addinsell
Considered to be the best of many filmings of the Charles Dickens story, this version has great special effects and provides more background on how Scrooge developed into a miser.
Going My Way (1944)
Cast: Bing Crosby, Barry Fitzgerald, Risë Stevens, Carl "Alfalfa" Switzer; Director: Leo McCarey
The Bells of St. Mary's (1945)
Cast: Bing Crosby, Ingrid Bergman, Henry Travers; Director: Leo McCarey
Watch these together. Two masterpieces, directed by Catholic Leo McCarey, star Bing Crosby as Fr. Chuck O'Malley, a priest who fixes troubled parishes. How O'Malley guides aging pastor Fr. Fitzgibbon (Fitzgerald in GMW) and Sister Mary Benedict (Bergman in "Bells") is a model of Catholic gentlemanhood. O'Malley also helps young people in moral crises which have become even more relevant in our time. Bing sings one of his best-known songs in GMW. The ad-lib, first-grade nativity play in "Bells" is priceless.
It's A Wonderful Life (1946)
Cast: James Stewart, Donna Reed, Lionel Barrymore, Henry Travers; Director: Frank Capra; Music: Dmitri Tiomkin
I'm including this on this list because there are people who haven't seen it. There are scoffers, but this is generally regarded as the greatest movie ever made. An angel (Travers) helps a middle-aged building and loan executive (Stewart), worn down by years of sacrifice and struggle, to see how bad off the people in his town would be had he not been born. If you've seen the film many times before, pay more attention to Dimitri Tiomkin's magnificent music during your next viewing.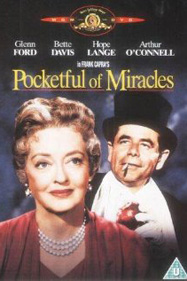 Pocketful of Miracles (1961)
Cast: Glenn Ford, Bette Davis, Hope Lange, Thomas Mitchell, Ellen Corby; Director: Frank Capra
Although Capra was the director, this movie was a committee effort which Capra did not like. While not as tight as It's A Wonderful Life, "Pocketful" has enough Capra touches to compensate for its flab and 1961 movie fads. You'll recognize "Wonderful Life" actors Thomas Mitchell, Ellen "$17.32" Corby and Sheldon Leonard. Depression-era gangster, Dave Conway (Ford) answers the intercessions of Queenie (Lange) to get involved in the big problem of an alcoholic apple seller (Davis). You will want to watch the marvelous opening scenes/credits over and over again.