AUTOBIOGRAPHY
A World War Two Love Story
Posted 2008, Revised May 1, 2018
Each of us is the result of millions of things that happened, or did not happen, since the beginning of creation. Many of us know, for example, that we are here and now because our ancestors emmigrated from Europe in the latter half of the 1800s.
If we're lucky, we may be able to get beyond the broad, impersonal explanations of History and down to our own family traditions and records: We are here because our direct ancestor "Patrick" married "Bridget" on May 24, 1880.
[Operation "Big Week" was preparatory action for the coming allied invasion of France that occurred in June of that year. [The] objective was to reduce German airpower by bombing Nazi factories that were making airplane parts and by calling the German luftwaffe out to fight so that its planes could be destroyed.
Less common is family lore and documentation that tell us about people who are not our ancestors and about what happened to them--or did not happen to them--that led to our being here and now. This is one such story.
"Our lives touch the lives of so many others," says Clarence the Angel to George Bailey in It's A Wonderful Life. The greatest movie ever made is built around the awareness that what we cause to happen or cause not to happen has effects that we don't and can't ever imagine. Soldiers on a transport boat are saved by George Bailey's brother because George Bailey saved his brother.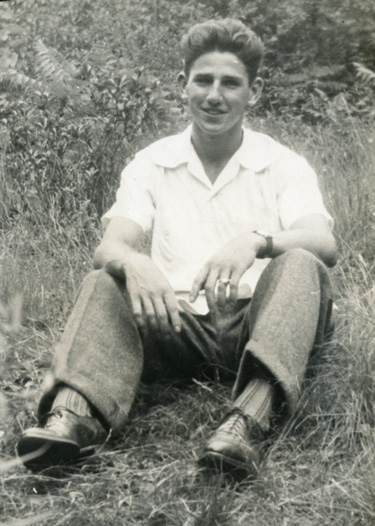 "In old photos Joe looks like he was a smart guy, an achiever."
One of the millions of reasons I am here writing this now--and why you are reading this now-- is because a guy named Joseph G. McManamon wasn't saved. He was killed, probably in a pretty horrible manner, in 1944.
The problem of evil is more knotty than those who use it to argue that there is no God make it out to be.
When he was growing up in Sugar Notch, PA in the 1920s and '30s, Joe McManamon knew the three Neal Conways who lived in that little coal-mining and railroad town. He was probably distantly related to them. The McManamon genealogy shows 19th-Century intermarriage with Conways back in Doona, County Mayo. This town seems to have issued most of the Irish who settled in Sugar Notch.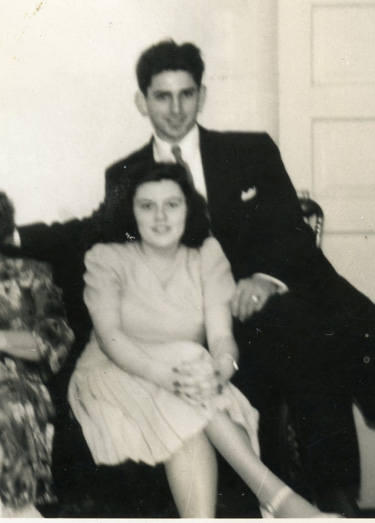 Joe McManamon and Jeanne Bradshaw in Ashley, PA in 1941. Both came from railroad families and went to St. Leo's High School.
And never would Joe have conceived when he left the earth to go on a bombing mission in February of 1944 that another Neal Conway would lift him out of scrap books and family photos and put him in this world of electrons and positive and negative charges. As the B-24 Liberator Tech Sargeant McManamon was flying in on that winter day lifted off the runway, he may have been thinking about his girlfriend back home, Regina Bradshaw. Perhaps he had a picture of "Jeanne," as she was then calling herself, pasted by the radio he operated.
In old photos Joe looks like he was a smart guy, an achiever. I bet that had he survived World War II, he would not have returned to working for the Lehigh Valley Railroad. He could have become an officer in the newly created U.S. Air Force and been involved in the rebuilding of Europe. He could have parlayed his radio know-how into a career in developing television or computers. He could have gone to college and law school on the G.I. Bill and now be a retired name partner in a big firm. He could today be running the web site about his bomber group. In any event, it is highly likely that he would have married Jeanne Bradshaw.
Probably because of lingering WW1 trench warfare mentality, height restrictions for combat duty were in force and kept 6' 6" Pvt. Neal Conway in the United States. He was trained as a mechanic in a troop carrier command, a unit set up for transporting paratroops or glider troops into battle. In the background is a B-24 Liberator bomber with its distinctive double tail, the kind of plane in which Joe McManamon served as radio operator. My father flew in C-47s. Built by Consolidated, the B-24 was designed to be built quickly. Safety was compromised and even when Nazis weren't shooting at it, it was dangerous to fly in. Crews called it "The Flying Coffin."
Thanks to information kindly provided by a couple of the many folks who are students of World War 2 air forces and their crews, I have learned a few things about Joe's last mission.
For one thing--and this is another twist in the road of destiny--Joe was transferred from one crew to another in the 8th Air Force's 445th Bomber Group to replace a radio operator who had lost his hearing. Joe's original crew, pictured at right, flew its 25 missions by April of '44 and was rotated home. But for the transfer, it's likely that Joe would have survived.