BOOKS
The Delmarva Dickens
September 15, 2017
If you pass through Crampton's Gap on the portion of South Mountain that looms over Burkittsville, Maryland, you will come upon an astonishing sight at the crossroads on the summit, a structure that looks like the ruin of a medieval castle or a remnant of a Roman aqueduct. Stop to examine it and you will find such adornments as horses heads and "speed" and "heed" cast in terra cotta, a zinc statue of Mercury in a niche and WAR CORRESPONDENTS spelled out in brick.
It's the Civil War Correspondents Memorial Arch, maintained by the National Park Service as part of Antietem National Battlefield. The arch is surrounded by Gathland State Park, once known as Gapland when it was the folly-filled estate of journalist George Alfred Townsend who added an "H" to his initials and wrote as "GATH."
Townsend erected the memorial arch in 1896. Its design was inspired by the Victorian eclectic facade of a firehouse in Hagerstown. Its builder slipped from fame to obscurity midway through his life.
After her "par and mar" die of the "pilmonary," Rhoda comes to live with her Uncle Meshach and Aunt Vesta. She tells Vesta that home isn't the same "sence the shews don't stop thar no mour."
A contemporary of his friend, Mark Twain George Alfred Townsend was born in Delaware about a dozen years after justice was met by the quasi-mythical [Patty] Cannon-[Joe] Johnson Gang, kidnappers of free and enslaved negroes. Townsend's father was an itinerant Methodist preacher who was employed by churches up and down the Delmarva (Delaware, Maryland, Virginia) Peninsula and around Philadelphia. Townsend's mother had an ancestor who, in the early 1800s, inherited a hat which George Alfred, admirer and intellectual descendant of Puritans/Calvinists, imagined to be a piece of 17th-century, steeple-crowned headgear that is today called a "pilgrim hat."
Rev. Townsend and his Milbourne wife made an ambitious couple. He obtained medical and doctorate degrees and purchased farmlands in Delmarva on his meager preacher's earnings. Meshach Milburn, the "forester" (likely descended from indentured servants who escaped to the Delmarva wilds) who amasses wealth in George's novel, The Entailed [Heirloom] Hat, is probably a personification of George's parents' Protestant industry.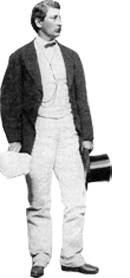 No less ambitious, George Alfred distinguished himself as a writer in many modes even before he graduated from high school in Philadelphia on the eve of The Civil War. An abolitionist from his childhood, he foreshadowed a distinguished career as a journalist by interviewing successful free negroes for one of his high-school paper articles.
Niles the model
The model for newspapermen of Townsend's generation was Hezekiah Niles, another Delmarvan who preceded Townsend by two generations. Niles was among American journalism's great newspapermen (the number of which would by no means fill a sprawling pantheon). From Baltimore he published his Niles Weekly Register containing what we in media today call "premium content," serious news about business, technology, politics and world affairs. Niles, for example, reported on the origin and progress of America's first common-carrier railroad, The Baltimore & Ohio. He also published news and statistics about slavery. His newspaper was printed in small format -- Readers complained about the miniscule type -- intended to be bound in volumes that would last for centuries. Indeed many copies of Niles' rough drafts of history have survived.
A devout Quaker, Niles was also religiously objective and unbiased in his publishing. He did not forward any news that at least two reliable sources, often other journals, did not corroborate, and he avoided tainting his reporting with personal and religious opinions. In fact, at a time when the American public was obsessed with religion, particularly Romanism, Niles stood out with his tendency of avoiding the subject altogether.
If ever the American news media comes to take balanced and unbiased reporting seriously, a Hezekiah Niles Award would be a fitting recognition of outlets that exemplify it.
GATH's rise and fall
George Alfred's newspaper jobs in Philadelphia included being a drama critic. In that role 19-year-old Townsend first met actor John Wilkes Booth.
Oddly, for a man who wrote a novel about the Civil War and erected a monument to its correspondents, Townsend was away in Europe for much of the Union-Confederacy conflict, trying to make a living as a writer/lecturer and apparently cohabiting with a woman.
He returned to the U.S. in 1865 as the war was being concluded. Again he met Booth and he was on hand as a correspondent to report on the Confederate surrender at Appomattox. He raced to Washington by train to cover the aftermath of Lincoln's assassination.
During Townsend's absence, the U.S. government ordered newspapers to print the by-lines of their reporters. This new practice brought Townsend, writing as "GATH," the fame as a writer he sought. In 1865 his first book, a compendium of his newspaper reports, The Life, Crime, And Capture of John Wilkes Booth [etc.] was published. It included GATH's eyewitness account of the hanging of Booth's co-conspirators, Mary Surratt, Lewis Powell, David Herold and George Atzerodt at Washington Arsenal (now Fort Leslie J. McNair).
Several years after the war, Townsend published a thick volume describing how Washington, D.C. actually works. In his 20s and 30s, he was the best-known journalist in America and fabulously compensated.
However by the time a middle-aged GATH purchased the Crampton's Gap lands in 1884 for his Gapland estate on the mountain above Burkittsville and began writing his historical novels, he was on the road to obscurity and beyond that to penury. He was eventually reduced to charging a toll to those who traversed his mountain. Crampton's gap was a shortcut from Frederick County to Washington County. Locals simply went another route. Townsend died in New York in 1914. His remains never reached the mausoleum at Gapland with "Goodnight, GATH" inscribed over its portal. In 1949 the property came to Maryland which turned it into a state park.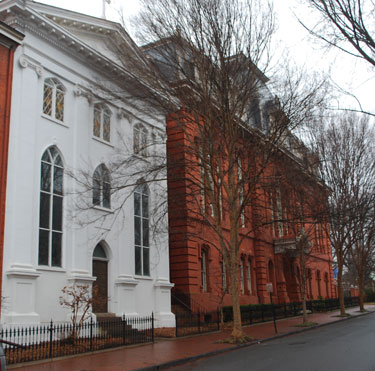 Georgetown Visitation Prep figures in Katy of Catoctin. Under the white chapel of the 1790 girls school in D.C. lies a crypt where sisters of Visi's early decades are interred.
History, local color and love
GATH's novels of the lands around The Chesapeake Bay were basically historical works of local color. To reach a broader market, i.e., extend the appeal of his tales to female readers, the author larded them with love interest. Typical of Victorian novels with their stage-drama-like dialogs and characters pausing to reflect, the works seem plodding to 21st-century readers. Early printings and Tidewater Publishing's mid-20th-century editions are hard to find.
The Entailed [Heirloom] Hat Or Patty Cannon's Times is a long, rambling tale wrapped around the story of the criminal operations and capture of Patty Cannon and her son-in-law, Joe Johnson. Literally its many characters rove at various paces all over Maryland's Eastern Shore and Delaware.
Based along the Maryland/Delaware line around Reliance, The Cannon-Johnson Gang of white toughs and black decoys ranged as far north as Philadelphia to kidnap free and enslaved blacks and smuggle them to the South. Nothing was done about the racket until the 1820s when four bodies were discovered buried on Cannon's property and Cannon was indicted in Delaware. After admitting many murders, Patty died in jail awaiting trial having, according to legend, poisoned herself with arsenic.
As a boy growing up on The Delmarva, Townsend would have known people who were versed in the Cannon-Johnson story and who were perhaps even acquaintances of the criminals themselves.
Low-born Meshach Milburn is the owner of the legacy, 150-year-old steeple-crown hat. For his wearing of it, the townsfolk of Princess Anne, Maryland have set him down as everything from a weirdo to a familiar of Satan who reads the Bible upside down. But Meshach has made a fortune. He uses some of it to obtain the hand of beautiful, old-line Episcopalian Vesta Custis by settling Vesta's father's debts. Vesta's servants are kidnapped by the evil Joe Johnson (with whom Vesta's respectable father is in cahoots). Come the middle pages, the many characters are off and scrambling all over the Delmarva with intrepid Greek fisherman Jimmy Phoebus on a mission to rescue the abducted. By the book's conclusion, at least three couples are engaged.
St. Ignatius at Chapel Point is, in Katy of Catoctin, "St. Thomas Manor...A church...in handsome design, of dark red brick, with Roman arches and heavy chimneys, spire, wide hall, and cool gallery within the hall, and slave quarters...."
A much tighter tale-telling is Katy of Catoctin or The Chain-Breakers. On a hunting trip on the eve of John Brown's raid on Harpers Ferry, Loyd Quantrell, a wealthy, young Baltimorean who was raised as a Catholic, meets Katy Bosler and her family. The German Boslers are members of the Dunker sect. They have their 'love feasts" at the plain chapel that became a famous landmark at The Battle of Antietem. A friend of the fictional Boslers is another German, George Atzerodt, who assisted John Wilkes Booth in materializing the Lincoln plot.
Loyd meets Brown and his men on their way to capture the arsenal at Harpers Ferry. The young Baltimorean ends up among Brown's prisoners in the engine house. At Brown's trial John Wilkes Booth appears. The rest of the story consists of the fictional characters' tales intertwined with Booth's progress through his assassination of Lincoln, his flight through Southern Maryland and his destruction in a Virgina barn.