CATHOLIC MATTERS
Parallel Churches and The Benedict Option
My Experience With Cult-like Institutes in Washington, DC
May 19, 2017
"Lou Devolio" was a guy in one of my Dad's outer circles of friends. Lou looked like Dobby in Harry Potter. When my Dad was suffering from terminal dementia and I was acting as his caregiver, Lou came around occasionally to keep him company, to take him out to lunch.
"If you ever need anything," Lou swore to me, "Just dial D for Devolio!"
One day after he dropped my Dad off, Lou paid me some compliments and said, "You oughtta be in [Parallel Church]! Ever hearda [Parallel Church]?"
"Yes, I have," I said.
Lou went silent. He didn't just drop the subject of [Parallel Church]. He lobbed it over the trees and housetops into the next block. He left and that was the last my Dad and I ever saw of him.
Good thing I never needed to dial D for Devolio!
"Parallel church," "PC" for short, is my term for what others call cult-like organizations. Today, among informed Catholics, a hot topic is "The Benedict Option" The title of a book (which I have not yet read) by Rod Dreher, The Benedict Option is named for St. Benedict of Nursia, the 6th-Century Roman who founded monastic communities as the empire disintegrated. The modern proposal named for Benedict is about dealing with a world that is more and more hostile to Christianity. No one is yet talking about a Charles "The Hammer" Martel Option or a Simon de Montfort Option.
"...the real Catholic church hopes for all people to come to it: the African nanny, the single guy, the young military family. Parallel churches don't hope for everybody, only the attractive, the affluent, the exploitable. That's why they do not hand out flyers after Mass or have tables at parish organization fairs. "
The Benedict Option seems to mean many things to many people. For some it means establishing a community imbedded in the world, as Karol Wojtyla did with his theater group, right under the Nazis' noses in World War II Krakow. However I gather that for many, the Benedict Option means establishing tightly-knit Christian communities, including actually building compounds in specific locations that are deemed to be out of corruption's way. From commentary I've read, Dreher seems to believe in staying "in the world," engaging with it, enriching it and evangelizing it. However there are always frightened, simple people, and a few who are not so simple, who believe that they can hermetically seal out the world and its taint.
Believe me (and read the rest of this essay) you don't want to live with such people. However there's one of them born every minute and parallel churches thrive on sucking them in. Parallel Church groups such as the original Mother of God Community offer many lessons about thinking that one can escape from a corrupt world.
Fireflies in a jar
If you haven't figured out what was going on with Lou Devolio, let me explain. Lou only visited my father because he was targeting me as a recruit for [Parallel Church]. The corporal work of mercy was only incidental.
With parallel church members such as Lou, it's never only about the corporal work of mercy, never only about teaching faith formation or singing in the choir or advertising for roommates or even selling cosmetics. It is always about looking for prospects.
In PCs quantity is everything; quality and things such as honesty and other virtues and habits that make up good character take a back seat, if they're not left by the curb completely. PC members, including priests who have been formed in parallel churches, have been convinced to believe that growth, merely increasing numbers, especially numbers of vocations, is equal to holiness, both the group's holiness and the recruiter's personal holiness. It's all about signing people up, about catching souls like fireflies in a jar. The more fireflies you catch, the holier you are. How one goes about catching the fireflies doesn't matter. Winning recruits isn't everything. It's the only thing.
It's an easy mission to get across to naive, eager people who are experiencing their Pentecost morning, who are discovering or rediscovering religious faith and who perhaps are also trying to atone for sins. Some Catholics cannot imagine that one atones by going to confession and saying a few Hail Marys, not by signing on to propositions wherein there is little regard for treating people justly and which often involve running roughshod over others.
Lou didn't know what to do when he was faced with someone who had actually heard of what he was trying to recruit me for. When he made his pitch I immediately rendered myself ineligible for recruitment in [Parallel Church] because I had heard of [Parallel Church].
Parallel churches typically don't want prospects who have heard of them. Chances are it's because what people have heard isn't good. The less interested a group is in being honest and treating others fairly, the more obsessed that group will be with controlling its image.
Parallel churches are all about money. A couple have accumulated vast amounts of wealth with which they can purchase the good will of bishops and even buy sainthoods! PCs demand a high percentage of tithing from members. Thus they seek recruits who are affluent or whom they can exploit.
Lower-income, even middle-class people, are usually safe from parallel churches. Exploitable exceptions include single people who can be convinced that they have "vocations" to be single so they'll put their earnings to the parallel church instead of to raising a Catholic family.
People who grew up with lots of siblings are desired marks because, in a group, they tend to fall in and go along. Attractive women are prime targets. With attractive women, you can attract anyone you want.
A stay-at-home mom is an indication that her husband earns good money. Other prey are recent converts who don't know much about the Catholic church. The conventional image of the convert to Catholicism is that she is a person who knows more than cradle Catholics about the faith. While that is true in many cases, there are still converts who just plunge in, make commitments to things they have not examined. They will eagerly commit to a parallel church without knowing what it is. One PC is notorious for drawing attendees to events and then, out-of-the-blue, asking those attendees to "make promises."
PCs also trawl for those who have recently returned to Catholicism after a long absence and whose faded memories have been recolored by imagination. Among recruits are people who have had lousy parish experiences.
Lackluster parishes are in part to blame for the attractiveness of parallel churches. Members admit that they were drawn to PCs because the typical parish is lacking. The parish priests may be "maintenance pastors" and avoid talking about tough subjects such as abortion and traditional marriage. The parishioners may be cliquey, and look right through strangers, even at the sign of peace.
Parallel church priests, on the other hand, unabashedly dress in sharp blacks and ooze enthusiasm. They sweep women off their feet. They join protests outside abortion facilities. They gladly hear confessions. Lay PC members are over-the-top friendly -- "love-bombing" it's called -- as long as you fit the types they're targeting.
If this were pointed out to the targets, most of them would probably respond, "Doesn't everyone have blond cougars making a fuss over them, inviting them to all kinds of parties etc.?!"
That's a reason parallel churches are parallel. As I've written elsewhere, the real Catholic church hopes for all people to come to it: the African nanny, the single guy, the young military family. Parallel churches don't hope for everybody, only the attractive, the affluent, the exploitable. That's why they do not hand out flyers after Mass or have tables at parish organization fairs.
In fact, PC members generally regard non-members as second-class Christians and oftentimes as complete dolts who can't possibly notice, for example, that PC members are sneaking around in parishes, directing the young people's choir, joining the sodality, all in an effort to chivvy out prospects.
Typically and historically most PC members are loathe to reveal that they are members. In one parallel church, the secrecy is called "reticence." Members of this PC laugh off the accusation that they're secretive. They laugh off everything that the poor dolts accuse them of. Or they say, "Oh, we're working on fixing that." Or they justify the secrecy by saying that their membership is nobody's business.
Well, if a guy leading the childrens' choir your son is in, or the gal teaching your daughter's faith formation, or employees at your kids' Catholic school are in parallel churches that aggressively and deceptively recruit young people, it is your business.
There being exceptions to every rule, one parallel church is really going on the offensive to make itself legitimate. Members of this PC actually brag about their membership on Facebook or LinkedIn or in You-Tube videos.
Cultures of deception
Concealing the fact that one is a PC member is an act of deception. From that act of deception grows a culture of deception. If members are not straightforward about their membership, then it's a short step to not being straightforward about many other things. It's another short step to outright lying. Casual lying is common among people formed in PCs. On the other hand, all PCs have strict rules and norms with respect to talking about other members and about the PC, even if such talk is speaking the truth, especially truth about leaders. The worst sin imaginable in the PC mind is what it considers "slander."
Another form of deception is perpetrated among and through unmarried parallel church members -- mostly women -- who are sort-of nuns in that they practice celibacy and sort-of laypeople in that they dress like laypeople, act like laypeople (which includes even dancing, a courtship activity) and otherwise enjoy pleasures of life sacrificed by real sisters who wear habits and live in convents.
Parallel churches have convinced these women that they have "vocations" to be single. They call them fancy names such as "consecrated" which ain't really consecrated if the ladies did not make vows before a bishop or his proxies. These in-between states are an advantage to the parallel church. As I wrote above, an unmarried man or woman can have a good-paying job "in the world" and thus tithe more income to the PC.
These women may pray more than the average Jane and go to Mass every day, but all they give up in the end are men and sex which they are likely to be terrified of anyway. In this age of man-hating, when marriage is on its way to extinction, "consecrated women" who aren't habit-wearing, convent-inhabiting sisters are just another single gals' pajama party. They are doing no service to a church that desperately needs wives, mothers, families.
That one can simultaneously live as a celibate like a nun, yet also behave and dress as an available woman is not only deceptive but can also be psychologically damaging to the person pretending to be one state, then another. Nathaniel Hawthorne wrote in The Scarlet Letter, "No man, for any considerable period, can wear one face to himself and another to the multitude, without finally getting bewildered as to which may be the true."
In other words, wearing the face of a nun in private and the face of a laywoman in public can really mess you up in the head. Someone should develop a counseling regime for ex PC members.
The creepy priest who encouraged such a muddle understood nothing about men, women, attraction, love, courtship. He was probably not emotionally mature enough to understand them. Yet he founded what became a powerful institute in the church, an institute wealthy enough to purchase his sainthood.
The same creepy priest also encouraged lay spiritual direction. All parallel churches allow and encourage select laypeople to direct other members. Of course, in cults the function of the "spiritual director" (who may also be called a "guide" or a "head"), lay or ordained, is to manipulate and brainwash subjects and to pump them for information, especially information about their financial condition. PC spiritual directors may also pry into family matters and personal health issues; I mean, very personal health issues.
Lay spiritual guides, it should be noted, are NOT under the seal of the confessional.
In parallel churches, the welfare of the spiritual director's subject doesn't matter. The qualifications and competence of the spiritual director don't matter. One PC offers training for spiritual guides to bolster the practice's legitimacy. It's the usual dolled up in "Ignatian spirituality."
One can join a PC as a recent convert and a divorcee, perhaps even as a divorcee committing adultery, and a month later start giving spiritual direction. One can be a half-crazy housewife who tells her charges such nonsense that it's a sin to pray in the bathroom. One can be a bitter old maid out to convince as many young women as possible to avoid men and follow a "single vocation." The inability to bear children, she tells her charges, is a call from God to be a "consecrated" woman. And the more "vocations" she racks up, the holier she is to boot.
Lay spiritual direction always, always, always leads to abuse. The fact that practices are described in the Catechism of The Catholic Church, or permitted by canon law or by the Vatican-approved constitutions of an organization does not mean that those practices are sound and prudent.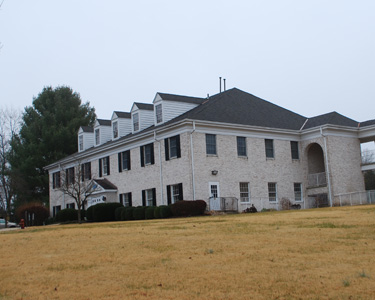 Goshen House
Part II: Mother of God: The Benedict Option Tried
The Archdiocese of Washington, DC and the trans-Potomac Diocese of Arlington have a nearly five-decade history of parallel church activity.
My own experience of PCs stretches back four of those decades, beginning with the Mother of God Community when I was a teenager. Half a century before the "Benedict Option" was conceived, the original Mother of God Community tried the version of the option that involves being closely-knit and gathering in a specific place.
The experiment was a disaster.
Mother of God (MOG) was founded in the 1960s as a community of charismatic Catholics, a type that went in for high-energy Masses with simple, jingle-like tunes played on guitars. Charismatics were also noted for wagging their tongues: udludludludla, as Buddhists hum their Om mantra.
MOG's cofoundresses were the undegreed Edith Difato and the more educated and professional Judith Tydings. The community rooted itself in the Montgomery Village development of Gaithersburg, Maryland, 15 miles outside of Washington, DC. Eventually Difato's sons, the oldest of whom had tried professional golfing, joined their mother in what evolved into a family enterprise.
MOG attracted people from all over, including the usual folks who come from afar in their pick-ups laden with all their wordly goods. Above I discussed how barely breathing parishes can drive people to parallel churches and the types of people that parallel churches target. Certain types are attracted to PCs, especially those anchored to a location, because those types:
1) believe the world is going to hell in a handbasket;
2) want a refuge from that world;
3) want their "innocent" children to grow up uncorrupted by that world;
4) want to save that world;
5) want "community;" and
6) want heroes they can worship.
My grade-school Religion and Science Teacher, Janice Zimmerman, a sweet, kind lady abandoned Bethesda for Montgomery Village. MOG also attracted several priests including the distinguished theologian, Fr. Thomas Weinandy, OFM. There is no such thing as having too much book larnin' (as distinct from street sense) to join parallel churches. One merely has to be a sucker for purity and community.
Four decades on, despite occasional newsmention, such as celebrating an anniversary with Pope Garrulous, the Catholic charismatic movement's heyday has long passed. Some charismatic Catholics have discovered the real beauties of the church and have moved on to tradition and standard practice. Others dabble with dissenting groups or have signed on to new buncombes.