DINING GUIDE OF THE PAST
Summerdale Junction
Summerdale, PA
Updated February 18, 2019
When I was growing up in the 1960s and '70s, one of the thrills of traveling from our home in Maryland to my grandmother's house outside Wilkes-Barre, PA, was passing the Pennsylvania Railroad's huge Enola railroad yards and engine terminal across the Susquehanna from Harrisburg. Farther up Routes 11/15 is the famous Rockville Bridge, the longest stone arch bridge in the world.
On the northern (or western?) end of Enola, where Routes 11/15 intersect with I-81, Summerdale Junction was opened on 11/15 around 1973. I believe it was built as a convenient restaurant for an adjacent Quality Inn that still stands. It was owned and operated by Robert and Mildred Stambach.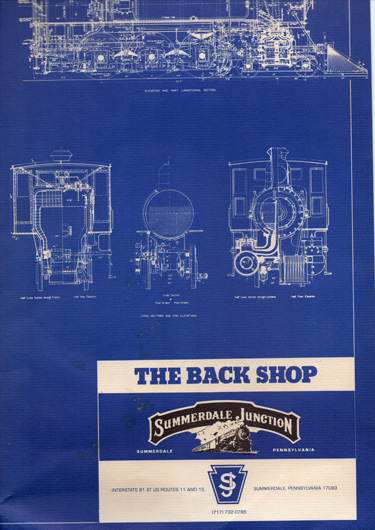 Summerdale Junction menu cover. Contributed by Paul Stambach.
Summerdale Junction got off to a good start. In 1974, the Toy Train Operating Society, a west-coast club that seldom has events east of California, held its annual convention at the restaurant.
Lots of eating establishments have train stuff among the decor, but Summerdale Junction displayed a serious collection of railroadiana. Hanging from the ceiling was, I believe, every Pennsylvania Railroad calendar illustrated by Grif Teller. You'd have to sell a lot of T-bones just to pay for all those.
Summerdale Junction's railroadiana collection, I understand, was leased from noted modelbuilder and author of of many railroad books, Edwin P. Alexander. A founder of the Train Collectors Association, Alexander also leased his toy train collection to another attraction, the Lincoln Train Museum in Gettysburg.