A World War 2 Love Story
by Neal J. Conway

Revised 09/03/2009
Each of us is the result of millions of things that happened, or did not happen, since the beginning of creation. Many of us know, for example, that we are here and now because our ancestors emmigrated from Europe in the latter half of the 1800s.

If we're lucky, we may be able to get beyond the broad, impersonal explanations of History and down to our own family traditions and records: We are here because our direct ancestor "Patrick" married "Bridget" on May 24, 1880.

Less common is family lore and documentation that tell us about people who are not our ancestors and about what happened to them--or did not happen to them--that led to our being here and now. This is one such story.

"Our lives touch the lives of so many others," says Clarence the Angel to George Bailey in It's A Wonderful Life. The greatest movie ever made is built around the awareness that what we cause to happen or cause not to happen has effects that we don't and can't ever imagine. Soldiers on a transport boat are saved by George Bailey's brother because George Bailey saved his brother.

One of the millions of reasons I am here writing this now--and why you are reading this now-- is because a guy named Joseph G. McManamon wasn't saved. He was killed, probably in a pretty horrible manner, 65 years ago.

The problem of evil is more knotty than those who use it to argue that there is no God make it out to be.

When he was growing up in Sugar Notch, PA in the '20s and '30s, Joe McManamon knew the three Neal Conways who lived in that little coal-mining and railroad town. He was probably distantly related to them. The McManamon genealogy (1) shows 19th-Century intermarriage with Conways back in Doona, County Mayo which seems to have issued most of the Irish who settled in Sugar Notch.

And never would Joe have conceived when he left the earth to go on a bombing mission in February of 1944 that another Neal Conway would lift him out of scrap books and family photos and put him in this world of electrons and positive and negative charges. As the B-24 Liberator Tech Sargeant McManamon was flying in on that winter day lifted off the runway, he may have been thinking about his girlfriend back home, Regina Bradshaw. Perhaps he had a picture of "Jeanne," as she was then calling herself, pasted by the radio he operated.

In old photos Joe looks like he was a smart guy, an achiever. I bet that had he survived World War II, he would not have returned to working for the Lehigh Valley Railroad. He could have become an officer in the newly created U.S. Air Force and been involved in the rebuilding of Europe. He could have parlayed his radio know-how into a career in developing television or computers. He could have gone to college and law school on the G.I. Bill and now be a retired name partner in a big firm. He could today be running the web site about his bomber group. In any event, it is highly likely that he would have married Jeanne Bradshaw.

Thanks to information kindly provided by a couple of the many folks who are students of World War 2 air forces and their crews, I have learned a few things about Joe's last mission.

For one thing--and this is another twist in the road of destiny--Joe was transferred from one crew to another in the 8th Air Force's 445th Bomber Group to replace a radio operator who had lost his hearing. Joe's original crew, pictured at right, flew its 25 missions by April of '44 and was rotated home. But for the transfer, it's likely that Joe would have survived.


His last flight into the hell of anti-aircraft fire and Jagdgeschwader ferocity took place on February 24, 1944 and was part of a massive air attack on the enemy called "Operation Argument."

This operation would also come to be called "Big Week." It was preparatory action for the coming allied invasion of France that occurred in June of that year. Big Week's objective was to reduce German airpower by bombing Nazi factories that were making airplane parts and by calling the German luftwaffe out to fight so that its planes could be destroyed. The Army Air Corps believed that tight formations of heavily armed bombers and fighters could do the necessary damage.

However, like other allied bombing efforts, Big Week was very costly. 247 bombers were lost. It fell far short of expectations, hardly denting Nazi war production. One thing helpful to the D-Day invasion that Big Week accomplished was the killing a lot of seasoned German pilots.

Citizens of the little town of Brottrode, Germany who witnessed what happened on February 24 recall that it was a beautiful day, with blue skies over snow-covered ground. Two mortally wounded B-24s, returning from bombing the Messerschmidt plant in Gotha a few miles away came down on them, one in the town itself and one on the outskirts. The latter was Joe's bomber in which he and eight others were killed. There was one survivor (2).

Joe was buried near Brottrode. Bringing him home proved to be a challenge. As Germany was conquered, the little town near Gotha ended up in Russian-occupied territory. In the postwar atmosphere of souring relations between former allies, the U.S. had to negotiate with the Russians the return of American servicemen's remains. Finally in 1950, six years after his death, Joe's body was recovered and moved to the Zachary Taylor National Cemetery in Louisville, KY (3).

President Roosevelt posthumously awarded Joe the Air Medal, the Purple Heart and the Oak Leaf Cluster. Every February 24, the people of Brottrode conduct a memorial service.

On a page in Jeanne Bradshaw's old scrap book, there are remnants of a news clipping about massive bombing raids in Europe. It looks like the missing parts of the clipping were ripped out violently. My mother was quite capable of defacing pictures etc. if she were upset enough.

I don't know how long Jeanne mourned her boyfriend's death, but by war's end she was courting a St.Leo's High School classmate, another guy from Sugar Notch, a private in the Army Air Corps who was deemed to be too tall to be sent into combat and who did his service entirely at bases in the U.S. She married Neal J. Conway on May 1, 1948.

Close to the end of her own life in 1993, Mom revealed something she had kept in her heart for almost fifty years. She was no Horatio, but she was a smart-aleck who grew up in the '30s, far from being the type who sees ghosts and UFO's, at least on a regular basis. In the presence of several relatives, she recounted how on a cold February night just after she turned nineteen, she was awakened suddenly. Sitting up in bed, she saw on the floor of her room, a vision of a bloody corpse. She knew it was that of Joe. Sure enough, a couple days later, word came to Sugar Notch and Ashley that he had been killed.

Now such an experience may seem to be as horrible and as sad as it is incredible. I like to think that Mom's vision was not a "sighting," but a gift, the kind of gift that is occasionally given to people of faith.

Perhaps a vision of a bloody corpse was not the kind of "gift" that Mom would have liked, but it was a gift that said, "Yes, there is an awful thing happening in your life, but I who can make it possible for you to see this will get you through it and take care of you. And I am taking care of Joe."

(1) http://www.ancestors-genealogy.com/lenaghan/lenahananthonydougherty.htm

Epilogue: I've made this page very Google-friendly so people interested in Joe McManamon, B-24s, Big Week and other proper nouns written herein can find it. I am interested in learning more. --NJC

Special thanks to Bjoern Mueller of Brottrode, Germany who provided information about Joe's last mission and Gruss Gott to our friends in Brottrode who hold the memorial service every Feb. 24.

(2) According to this web site The crew members of B24 41-29149 included: Capt Phillip M. Costain, Pilot; 2LT Fred L Shell, Co-pilot; 1LT Jerome L Aronov, Navigator; 1LT Anthony J LaPolla; T/S Elroy R Enlow; T/S Joseph G McManamon; S/S William F Daly, S/S Ronald R Short; S/S George M Rice. One crew member, Elroy Enlow, survived and was taken prisoner. Sergeant Enlow is mentioned in a November 11, 1976 article in The Evening Standard of Uniontown, PA (Archive subscription required).

(3) Zachary Taylor National Cemetery Plot info: McManamon, Joseph G, d. 02/24/1944, T/SGT US ARMY AC WW II, Comm Grv W/ Collison, Gerald D 2/Lt 0-681872, Plot: I 144 145, bur. 04/28/1950

Copyright 2009 by Neal J. Conway
About this site and Neal J. Conway

Make homepage nealjconway.com: Faith and Culture Without The Baloney appear in this window
Joe McManamon and Jeanne Bradshaw in Ashley, PA in 1941. Both came from railroad families and went to St. Leo's High School. Joe graduated in 1938; Jeanne was a junior or senior when this was taken.
Tech Sargent/Radio Operator McManamon (last at right in first row) with a bomber crew. This was not the crew of the B-24 with whom he flew his last mission. Their names:
First Row (left to right):
S/Sgt Austin Limbach, Tail-gunner; S/Sgt. Roland Giroux; S/Sgt. Victor Auchard; S/Sgt. Sherman J. Parker; T/Sgt. Joseph G. McManamon
Second Row (left to right):
Lt. Samuel Miller, Pilot; Lt. James E. Elliott, Co-Pilot; Lt. Dorman Domwerth, Bombadier; P.O. John A. Harmon, Navigator; T/Sgt. Norman Hinkel
Probably because of lingering WW1 trench warfare mentality, height restrictions for combat duty were in force and kept 6' 6" Pvt. Neal Conway in the United States. He was trained as a mechanic in a troop carrier command, a unit set up for transporting paratroops or glider troops into battle. In the background is a B-24 Liberator bomber with its distinctive double tail, the kind of plane in which Joe McManamon served as radio operator. My father flew in C-47s. Built by Consolidated, the B-24 was designed to be built quickly. Safety was compromised and even when Nazis weren't shooting at it, it was dangerous to fly in. Crews called it "The Flying Coffin."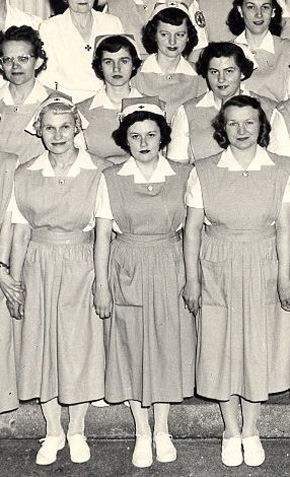 Like many women of the time, Regina "Jeanne" Bradshaw (front and center) helped the war effort by training as a Red Cross nurse. She still used her skills at church blood banks in the '80s. Toying with the idea of becoming a professional singer, she auditioned for Russ Morgan's "Music in The Morgan Manner." When they offered, she did not accept. However she did sing Christmas songs on the radio under the sponsorship of Calvert Whiskey (publicity photo below).
After the war, Neal Conway and Jeanne Bradshaw court at San Souci Park near Wilkes Barre. The car is a '39 Pontiac.
Eleanor Roosevelt visited Sugar Notch and dedicated this World War I / World War II Memorial outside the borough building on Main St. Joe McManamon is listed along with two other McManamons, Daniel and Peter Paul, who were killed in World War I. Another World War I casualty is my Great Uncle Martin Conway. Read his story: Martin Leo Conway and The Boys From Sugar Notch.